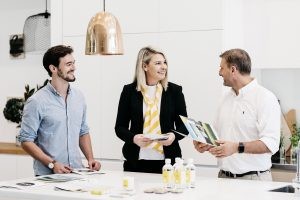 1. First Impressions
Street Appeal – Tidy the yard, remove toys, rubbish and any junk. Go to the front door and look at it like a buyer.
2. Dress up the Entry
Place 2 large planters on either side of the front door, with a profusion of healthy plants spilling out. Make sure the colours compliment the look you're after.
3. Paint
The biggest impact you can make in a room is painting the walls, changing the colour. New paint makes it look clean.
4. Display Photos
Have some generic (not family) photos blown up, pick some inexpensive frames at a discount store, and line a wall.
5. Shine a little light
Add accent lighting, spotlights that plug into existing outlets can direct light to features you want to emphasise, such as art or plants.
6. Make Rooms Spacious
When it comes to decoration, keep it simple and uncluttered – An overcrowded room will always make it feel smaller than it really is.
7. Give the yard a clip
Trim back the trees & shrubs that block the street view of the house & especially around the windows. This also helps the house look lighter.
8. Make the yard interesting
Place a table & chairs under a tree and create another room outside. This is all about creating more room or other places to go.
9. Make sure things work
Remember that buyers will check light switches and taps to see if they work or are not noisy. A small repair and a bit of maintenance could make the sale!
10. Ask a friend to visit
Ask their opinion about how you could improve your property – what is it that would stop them from being interested in making an offer?